Pediatric Healthcare Improvement Initiative for Tennessee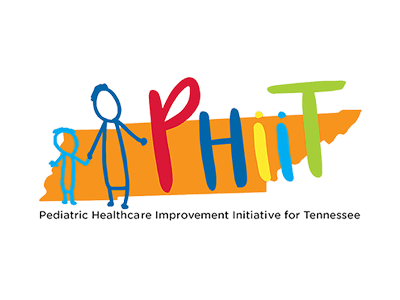 PHiiT is a broad public-private partnership of organizations and individuals committed to supporting the continual improvement of the physician-led systems of clinical care for children in Tennessee and, ultimately, the health of all Tennessee children.
The PHiiT VISION is that every pediatric provider has the tools to advance the practice of outpatient medicine in the most effective, efficient and economic way.
Our MISSION is to use standardization, practice measurement, continual process improvement and collaborative learning to support the innovative enhancement of pediatric care delivery by providers.
Our GOALS are to:
Engage all stakeholders in pediatric outpatient delivery
Assist in focusing resources on population-based priorities,
Advance best-practices education for health providers,
Raise the actionable value of practice measures,
Supply practice data to practices in a safe environment,
Support practices in the development of in-house quality improvement and Capture the innovative power of the ambulatory provider.
In the summer of 2013, the Tennessee Chapter of the American Academy of Pediatrics (TNAAP) began a conversation with key state and national stakeholders about the consistency of pediatric practice and the effectiveness of pediatric primary care in impacting important population health trends . These discussions grew from the complicated and unorganized landscape of pediatric practice quality metrics, improvement projects and new practice requirements. Nationally in 2013, children only received 68% of recommended care for acute problems, 53% of recommended care for chronic conditions and 41% of recommended preventative care. To address this gap, the Pediatric Healthcare Improvement Initiative for Tennessee (PHiiT) Advisory Group was formed in the fall of 2013.
As the advisory group worked on the barriers to improvement of this national trend, we identified three major gaps. First, the priorities of pediatrics population health were poorly defined and functional metrics were lacking because they were primarily based on claims data. Second, current provider culture and practice design was poorly equipped to add a "new product line" in population health management and iterative improvement of practice function. Third, practices had little understanding of their practice performance and needed a value structure to develop appropriate business plans to address practice transformation. In early 2014, the advisory group formally chartered PHiiT to work on these three gaps and PHiiT joined the National Improvement Partnership Network.
PHiiT's first initiative was the Breastfeeding Sustainment and Tobacco Exposure Reduction Project. This project was funded by the Tennessee Department of Health. This project started in June of 2014 and finished the pilot stage in June of 2015. Six practices (representing approximately 60 pediatric providers) participated from Chattanooga, Oak Ridge, and Knoxville.
Because of the success of this pilot and the timeliness of the PHiiT vision, in December of 2014, PHiiT was awarded a $1.49 million, 3 1/2-year contract with the TennCare Bureau to continue and expand PHiiT's work. This contract became active in March of 2015.
To learn more about PHiiT, please contact