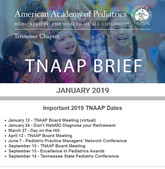 TNAAP's monthly electronic newsletter.
The Tennessee Pediatrician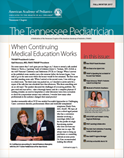 TNAAP's biannual print newsletter mailed to all current members.
Only archived editions are availble online. To recieve the current edition, contact TNAAP to confirm your membership is current. Casey Lamarr, casey.lamarr@tnaap.org
Advertise with TNAAP! Have your ad visible to Pediatricians and their staff across the state! Contact Casey Lamarr for details.