Screening Tools and Referral Training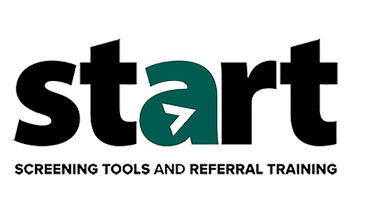 NEW PRACTICE RESOURCE AVAILABLE!
TEIS has created a new poster to help practices spread the word about services available to families. The QR code provided will take families directly to TEIS webpages for more information and resources. These are great for exam room bulletin boards and doors. Download and print your own here or contact Susan Rollyson (susan.rollyson@tnaap.org) to have some shipped directly to your practice FREE of charge!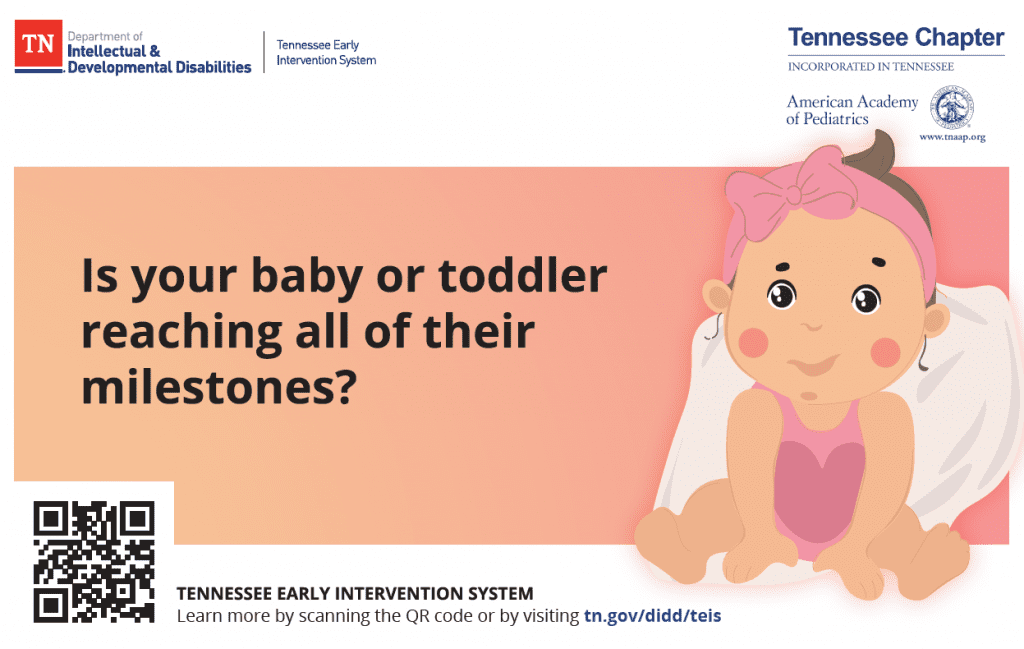 The Tennessee Chapter of the American Academy of Pediatrics (TNAAP) can be a tremendous resource to you in implementing the use of formal screening tools in your practice. TNAAP has a free training program for practices and medical schools called Screening Tools And Referral Training (START).
START is an educational program developed by TNAAP to help pediatric care providers – including pediatricians, family physicians, physician assistants, nurse practitioners, nurses, and others – learn skills and strategies to implement routine developmental screening using standardized screening tools as part of their health care procedures. This training is also appropriate for residents and students in the medical field who plan to become primary care providers. It was adapted with permission from the Illinois Chapter of the American Academy of Pediatrics (ICAAP). The program is in collaboration with Tennessee's Early Intervention System (TEIS).
TNAAP offers START training throughout the state to educate physicians, allied health care providers, and office staff about developmental and behavioral screening tools, referral procedures, and office workflow, and coding for payment for screening that can be easily incorporated into a practice routine.
To learn more about the START program, download this overview.
START Contact Information
Susan Rollyson, M.Ed.
Program Manager
Phone: 615-956-7815
Fax: 615-383-7170
Email: susan.rollyson@tnaap.org
Toni Whitaker, MD, FAAP
Medical Director, START Program
Developmental Behavioral Pediatrician
Jason Yaun, MD, FAAP
Training Director, START Program
Pediatrician
Learning Objectives for START
The purpose of the START program is threefold:
To increase early identification and referral of children with developmental delays or behavioral problems using standardized screening tools.
To better understand referral resources in your community.
To learn about better documentation of services, coding and payment.
Most pediatric health professionals practice developmental surveillance. Surveillance is a flexible, ongoing process where knowledgeable professionals perform skilled observations of children during the health care visit.
Developmental screening, on the other hand, is a brief procedure, using a standardized validated tool, available either commercially or in the public domain, to determine whether a child requires further and more comprehensive evaluation. Developmental screening enhances surveillance. Screening may be a part of routine well child visit or it may be used during acute care visits in response to a specific concern about a child. The AAP recommends routine surveillance and using standardized developmental and behavioral screening at least 3 specific times: the 9, 18 and 24/30 month visits.
In an updated 2006 and 2007 policy statement and the most recently updated 2020 policy statement, the AAP recommends routine surveillance and standardized developmental and behavioral screening. The statements provide strategy to support health care professionals in developing a pattern and practice for addressing developmental concerns in young children. It recommends that validated general developmental screening tools be administered regularly at the 9-, 18-, and 30-month health supervision visits and that screens for autism spectrum disorder be administered at the 18- and 24-month visits. In addition, developmental surveillance (monitoring) should be incorporated at every well-child preventive care visit and any concerns raised during surveillance should be promptly addressed.
Tennessee's Early Intervention System (TEIS)

Tennessee Early Intervention System (TEIS) is a statewide program sponsored by the Tennessee Department of Intellectual and Developmental Disabilities. It is mandated under the Individuals with Disabilities Education Act (IDEA), Part C, to provide early intervention services to children eligible under this act. TEIS is a network of nine district offices that provide home-based, early intervention services to young children with special needs (birth to three years) and their families.