Developmental Screening in our NEW NORMAL ….
As the COVID-19 Pandemic continues to change the way pediatric practices connect and identify with patients, developmental screeners are now helping providers conduct screenings virtually.
Using ASQ-3 in a Virtual Environment
Do you have questions about conducting ASQ-3 screenings with families virtually? FREE Fillable PDFs of all the summary/answer forms and JPEGS of all questionnairesare available at https://agesandstages.com/using-asq-in-a-virtual-environment/. Watch a webinar recording for strategies and resources to help you conduct screenings via telephone or video chats.
Using PEDS in a Virtual Environment
PEDS Tools publishers are offering substantial help to clinicians during the COVID-19 quarantine including the following:
I. Freely available parenting information on topics such as behavior management, building school and social skills, along with links to reputable parenting websites
https://pedstest.com/static/ParentingInformationResources.html

II. Donations of Tools in translation (in more than 60 languages). For more information see: https://pedstest.com/Translations/PEDSinOtherLanguages.html

III. Donations of Tools to unfunded research in developing nations and to all developing nations, along with technical support. See: https://pedstest.com/Translations/

IV. Donations of a .pdf of their textbook , "Identifying & Addressing Developmental-Behavioral Problems: A Practical Guide for Medical and Non-Medical Professionals, Trainees, Researchers and Advocates." The book is suitable for distance learning/teaching with 3rd/4th-year medical students, residents, fellows and community providers). To request a free copy and online links to services and parenting information, send an email to: online@pedstest.com

V. A free and expanded trial of PEDS Tools Online. To sign up go to: https://pedstestonline.com/ PEDS has also waived the set-up fee for PEDS Online.

VI. Lower prices for the PEDS: Developmental Milestones – Assessment Level (PEDS:DM – AL) online. The PEDS:DM – AL is used in subspecialty clinics, early intervention intake and research and billable with the 96112/13 CPT code. See: https://pedstestonline.com/
For more information about any of the above information please contact Susan Rollyson Susan.Rollyson@tnaap.org
TEIS Referrals: There's an App for That!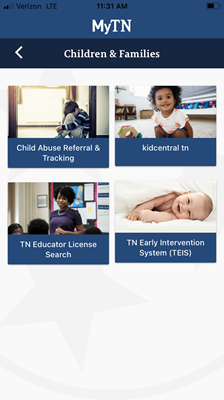 We are excited to announce that families, caregivers, and medical professionals can now refer a child to TEIS on the MyTN app. The MyTN app is meant to be a one-stop-shop for Tennesseans to access useful information. Services range from renewing your driver's license to finding your favorite farmer's market. We are hopeful that this new resource will help even more families and children find their way to TEIS and all of the helpful services that are available. To check out the new app and all it has to offer, download it for free in your device's app store.