2022 Pediatrician of the Year!
FOR IMMEDIATE RELEASE
August 29, 2022
Tennessee Department of Health Interim Commissioner Named Pediatrician of the Year
Morgan McDonald, MD, FACP, FAAP was awarded with the Pediatrician of the Year Award Saturday August 27 during the annual Tennessee State Pediatric Conference.  The Tennessee Chapter of the American Academy of Pediatrics (TNAAP)  recognized Dr. McDonald for her leadership and guidance during the pandemic.  Dr Anna Morad, Immediate Past President of TNAAP, recalled "Dr. McDonald is an accomplished public health leader who prioritizes the health and wellbeing of Tennessee children. She deserves this recognition along with our gratitude for her thoughtful leadership not only for the pandemic response but also the many other TDH missions that impact the lives of TN children on a daily basis".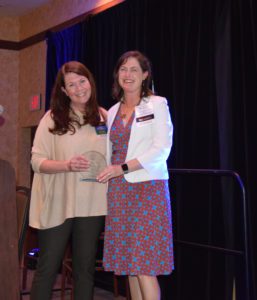 Dr. McDonald is currently serving as Interim Commissioner for the Tennessee Department of Health (TDH). She has over 15 years of experience creating and managing systems of care for vulnerable populations. Prior to her current appointment, Dr. McDonald served as the TDH Deputy Commissioner for Population Health, responsible for implementation of the Department's strategic plan and direct oversight of prevention and safety net services including Maternal and Child Health, Chronic Disease prevention, Rural Health, Minority Health and much of the Department's data infrastructure.
"We are so proud of Dr. McDonald's many accomplishments both during the pandemic and beyond. Time and again we have relied on her expertise in navigating the many layers of the pandemic and its effect on the health and well-being of children and families. We are glad to call her a member and this honor is a well-deserved recognition of her great work as a pediatrician," Jason Yaun, MD, TNAAP President.
Dr. McDonald is board-certified in internal medicine and pediatrics.  She received her undergraduate and medical degrees from Vanderbilt University School of Medicine. She completed residency in internal medicine and pediatrics at the University of North Carolina – Chapel Hill.  She is a fellow of the American Academy of Pediatrics and the American College of Physicians.
TNAAP also gave three other awards during the event.
Friend of Children Award: Isaiah 117 House, a non profit who cares for children awaiting foster placement
Lifetime Achievement Award: Noel K Frizzell, MD, Pediatrician, Memphis, TN
Lifetime Achievement Award: Joel F. Bradley, MD, Pediatrician, Nashville, TN